Take the Core Values Index (CVI)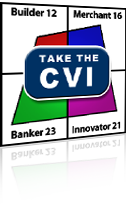 This free, limited, version of the CVI is designed to get to the core of who you are. It pulls out your top two core values. Once you know what they are, you can apply them to marketing, building relationships, choosing clients, project management and messaging.
Fill in the form below to be signed up for my list and get the link to take your CVI. I look forward to helping you take your values to the next level.
Enjoy!
Kristen Beireis
Trust-Building in Marketing Expert
---
<!-End Container->