Are you a solo Wellness Provider who wants
clients that say "yes" and sign up fast?
Your uniqueness is the key....but you may not fully trust that.
If marketing has become a time/energy drain and isn't getting the results you want, then it's time to make a shift. You know you have to build trust before a client is going to jump in and start paying you. What you may not know is that your uniqueness is the key to earning that trust and saving your energy. Trust your own uniqueness, then leverage it to attract more prospects and convert them into paying clients faster. You can reclaim your energy and stand out in a crowd like a tie-dye shirt. I can help! Take advantage of my trust-building programs by clicking here.


Worried your marketing plan isn't strong enough? Find one place you can get some marketing relief through higher levels of trust. Click here to get your free session.
Are you in the beginning stages of building your business? Do you find it difficult to figure out which marketing guru/system to follow? Let's get you set up for a lifetime of business success in the Newbie Marketing Program.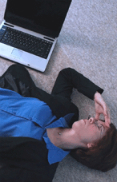 Are you tired of marketing crash and burn? As you are working towards the next level in your business, it can be very tiring to keep pushing through launches and big marketing campaigns. Get some relief with the Next Level Program.

<!-End Container->